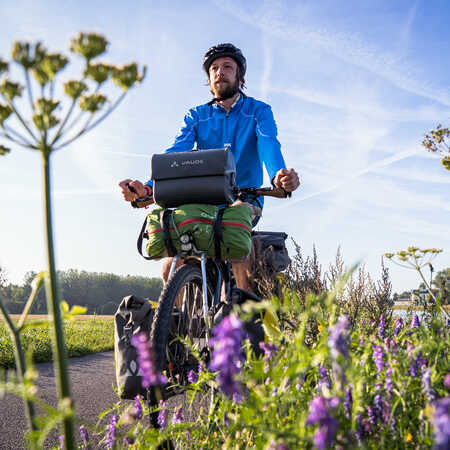 Randonneur à vélo du côté de Pont L'Evêque © Oise - Pont L'Evêque Un Monde à Vélo
south
Best equipment for your cycling trip
Choosing the best equipment for your cycling trip along the Scandibérique
What equipment should you choose before leaving?
To get your cycling adventure off to a good start, here are five pieces of advice: 
1- Choose the right type of bike
Although a touring bike is the best choice for tackling the Scandibérique cycle route, an all terrain bike, or a gravel bike, or even an urban bike or a mountain bike with certain modifications (tyres for smooth surfaces, mudguards, a bike luggage rack...) will do. It is imperative, though, that the bike should be clean and perfectly suited and adapted to your body type.
2- Choose the right panniers
Avoid rucksacks, as they tend to give you a sweaty back and can be bad for the neck. Waterproof panniers that can be secured to the front of the bike are best, or, if you have a gravel bike, bikepacking bags.
3- Weight is the cyclist's enemy!
Avoid carrying excess baggage, so only take what's strictly necessary: 1 garment for rainy weather, 1 pair of cycling shorts, 1 warm garment, 1 pair of bib shorts, 1 pair of cycling shoes, 1 cycling jersey and 1 T-shirt, plus one smarter outfit for going out, suitable for the season.
4- Accessories really make a difference
Cycling along, you'll understand that comforts enhance how safely you can ride along and improve your reactions on the road. A good helmet, sunglasses, gloves (protecting your hands should you fall), clothes that fit well and suit the weather and good lights will mean your journey will go that much more smoothly and efficiently.
5- Remember these necessities, including a repair kit
Carry water, energy foods, the basics for repairing a puncture and a small first-aid kit, all indispensable for making sure your journey along the Scandibérique is hassle-free.
Go to the page Preparing my cycling journey