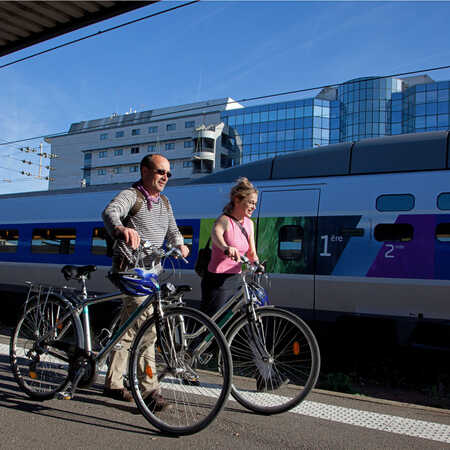 Gare de Tours - Train et vélo © CRT Centre-Val de Loire - P. Forget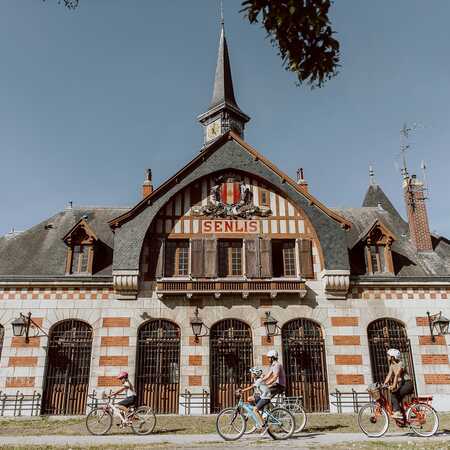 Gare de Senlis © Reed Hilde Lenaerts - Oise tourisme
south
Getting to the Scandibérique cycle route
Getting to the Scandibérique cycle route by bike, train, coach, car or plane
Coming by bike from another route
Given the fact that the Scandibérique is the longest cycle route crossing France, it encounters many other cycle routes along its way. 
Here is a list of the main interconnections allowing cyclists to create their own cycling circuits, sticking 100% to cycle routes alone:
When researching the possibilities for creating your own cycling journey, do use the route calculator, or the France Vélo Tourisme website.
Getting around by train + bike
It's not that we want to encourage you to take public transport when you want to be getting around by bike and by yourself as much as possible. However, to reach or leave the route, or to miss out a section or take into consideration good places for a rest, the information below will allow you to adapt your cycling adventure to your wishes and needs. Make use of these short cuts to make the most of the Scandibérique by bike!
We recommend the following railway services (that accept bikes on board) :
Lignes de trains de la Belgique à Paris
+ further informations available on Greater Paris crossrail and underground services run by RATP 
Train lines from Paris to the Loire Valley
Train lines serving the counties of Vienne and Charente
Train lines between the county of Charente and Bordeaux
Train lines between Bordeaux and the Canal de Garonne
Train lines between the county of Landes in Gascony and the Pyrenees
Map(s) of rail networks 
The maps of rail networks that are useful for the Scandibérique cycle route will allow you to manage your train + bike journey à la carte!
Getting around by coach + bike
At the national level, to get around the route by coach, at time of writing, only the company Flixbus offers an admittedly very limited number of possibilities for the transport of bikes in their entirety (i.e. not taken apart). In addition, to make use of the few spaces available, you need to make your reservations a long time in advance!
At the level of the counties, or départements, crossed by the route, transporting your bike(s) by coach is possible on certain lines, but with the bike(s) placed in the baggage hold:
 
Centre-Val de Loire: on the Rémi 45 coaches, a service is available all year round with bicycle racks on certain journeys and targeted stops on line 3 (between Orléans and Gien), line 8 (between Orléans and Lailly-en-Val), line 9 (between Orléans and Beaugency), at weekends and public holidays and every day between April and September. You must make a reservation the day before (before noon) by calling 0 800 00 45 00 (toll-free number, free service and calls).
Sud Charentes: line 10 Angoulême < > Baignes and line 12 Angoulême < > Barbezieux, with bikes stored in the hold
Nouvelle-Aquitaine : with bikes stored in the hold

line 311 Libourne < > Montguyon 
line 501 Bordeaux < > Langon
line 502 Bordeaux < > La Brède
line 511 Bordeaux < > Hostens
line 512 Langon < >  Bazas 
line Agen < > Mont-de-Marsan : Nérac, Mézin, Labastide d'Armagnac
Getting to the cycle route by car
Whether you decide to ride along the Scandibérique for two months, a weekend or just a day's outing, a car equipped with a bicycle rack offers a safe, useful way to reach your starting point with ease, bikes on board.
If driving from quite a distance away to reach the Scandibérique, it's easy to make use of the extensive network of motorways that pass close to the cycle route.
Main motorways (going north to south):
From Namur (Belgium) to Paris: A15 (Autoroute de Wallonie), then A2 and A1 once in France
From Cambrai: A26 for St-Quentin or Tergnier and A1 for Compiègne
From Paris to Orléans and Tours: A10
From Paris to Montargis: A6 and A77
From Tours to Poitiers: A10
From Bordeaux to Langon: A62
From Langon to Mont-de-Marsan: A65
From Bordeaux to Dax: A63
Once you've driven to your destination, you need to consider where to park your car for the duration of your stay.  
There are many possible solutions to this, depending on the length of your cycling trip:
If you're just heading out for a day's outing, opt for a car parking spot beside a stretch of greenway (for example, a car park at a former railway station), or a street or car park in the centre of a town that's not far from the actual starting point where you're joining the route.
If heading off for several days of cycling, a covered, paying car park is a good idea. You can find information on these at local tourist offices or town halls (mairies).
Alternatively, should you have friends or family who live near the route, you could arrange to leave your vehicle with them for the duration of your cycling holiday. 
Or, another practical solution might be, if you're driving from far away and you've chosen to sleep a night at an accommodation provider who's an accredited member of the Accueil Vélo network, to ask the provider if it would be possible to leave your vehicle at the property in exchange for booking a second night at their establishment at the end of your cycling trip.
At all events, make sure, if leaving your car in a public spot, to ask local people if they think it's in a safe area, and don't leave anything visible inside the car to tempt potential thieves.
Coming by plane
If flying in from abroad, it is possible to reach the Scandibérique, arranging a transfer to your starting point from one of these three major international airports: 
However, reaching a precise point on the route from an airport won't always be easy. Make sure you study your options and route, or then arrange in advance for a taxi service that can carry your bike(s).